While migrating my Sharepoint 2010 farm from Microsoft SQL Server 2005 to a SQL Server 2012 'Always On' environment I found the following error in the eventlog: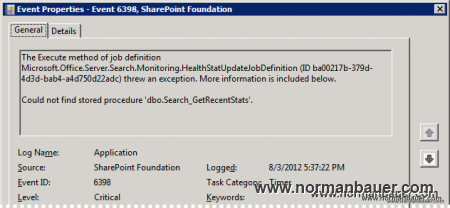 The Execute method of job definition Microsoft.Office.Server.Search.Monitoring.HealthStatUpdateJobDefinition (ID ba00217b-379d-4d3d-bab4-a4d750d22adc) threw an exception. More information is included below.

Could not find stored procedure 'dbo.Search_GetRecentStats'.
This error can be fixed in the Sharepoint 2010 Central Administration, navigating to Monitoring > Timer Jobs, Check Job Status > Search Health Monitoring – Trace Events and then selecting Run Now.