Error in Data Protection Manager 2012 after installation of Update Rollup 3 for System Center 2012 Service Pack 1
Posted by Norman Bauer in Jul, 2013
On July, 23 2013 Microsoft released Update Rollup 3 for System Center 2012 Service Pack 1 containing Data Protection Manager version 4.1.3415.0. After the installation of this update rollup on DPM 2012 I could not update the agents from the DPM console.
Protection agent version: 4.1.3408.0
Error: Data Protection Manager Error ID: 301
The protection agent upgrade failed because the protection agent is not installed on [servername].
Recommended action: To upgrade the protection agent:
1) In DPM Administrator Console, in the Management task area, on the Agents tab, select the computer on which the protection agent is installed, and then in the Actions pane, click Uninstall to remove the protection agent record.
2) On the Agents tab, click Install to reinstall the agent on [servername].
A manual installation of the agent on the protected server worked fine and DPM recognized it immediately.
The second issue I noticed after the update was an error while modifying a protection group. I tried to add a file server to a protection group which failed with an error giving no further details:
Modify protection group: [protection group name] failed:
Error 1004:

Allocate replica for [protected source] failed:
Error 1004: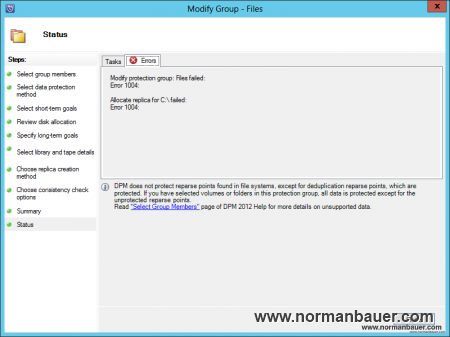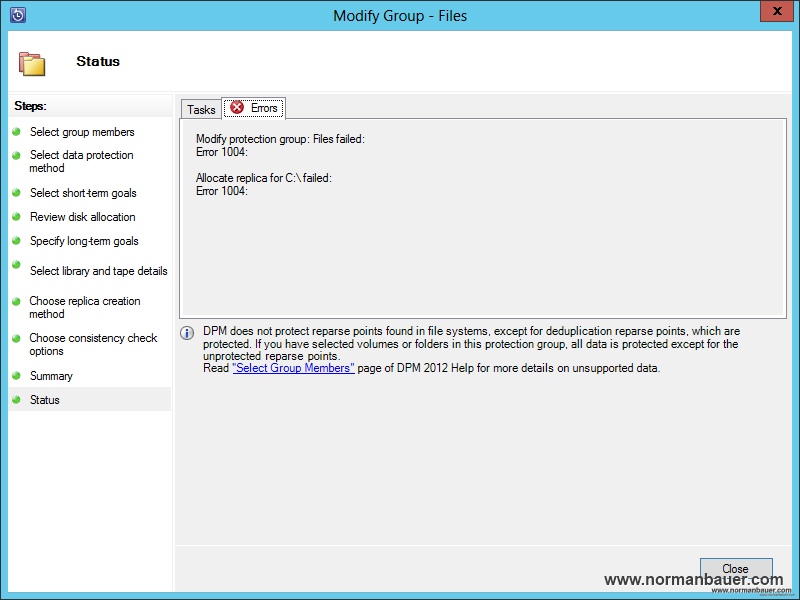 At the moment I don't know about any workaround or fix except to not install the update rollup.
Update
27 Jul 2013 12:19 AM

Folks,

We are actively working on the issues that have been reported here. We have pulled down the update from Microsoft Update. Given the issues seen at this point we would strongly advise against any further installation of Update Rollup 3 for DPM 2012 SP1.

We will shortly update you on the issues and the next steps. Stay tuned.

– DPM Team
Update 2
Suggested workaround by now:
You'll need a DPM database backup from before the installation of UR3
Uninstall DPM, retain disk based recovery points
Install DPM
Install UR1 and UR2
Restore database from backup (dpmsync)
As far as I know is the DPM product group already working on a fix, but there is nothing official at the moment.
Update 3
Please see this link: http://blogs.technet.com/b/dpm/archive/2013/07/30/important-update-on-dpm-2012-sp1-update-rollup-3-issues-and-workarounds.aspx
I just had my support call. DPM seems to be fixed now (except the agent update issue).
I was told to not share the scripts. If you have this issue open a case, it is free of charge.
Update 4
Update Rollup 3 for System Center 2012 Data Protection Manager Service Pack 1 has been re-released
I'll give it a try tomorrow…
Update 5
This time everything (the update itself, agent update, backups and protection group settings) worked as expected. DPM is now version 4.1.3417.0.