I recently activated the End User Recovery feature of Data Protection Manager 2012. I did the schema extension – which by the way added
a ms-BackupSrv-Share attribute
a ms-ProductionSrv-Share attribute
a ms-SrvShareMapping class
and a MS-ShareMapConfiguration container
to my Active Directory. We'll come back later to this…
I also enabled EUR in DPM itself (Options > End-user Recovery).
In the first few days this feature seemed to work really well and I was happy in the first place. But now, about 3 or 4 weeks later, I am experiencing some strange behavior. When looking at previous versions now, I am just getting versions from the past 2 weeks, not from all recovery points DPM has on its disks. Latest previous version I see today is from August, 31st. But DPM offers still recovery points from late July. So where are these in the previous versions tab?
I took a close look at those ms-SrvShareMapping objects that DPM created when I activated EUR. You can find those objects in the CN=MS-ShareMapConfiguration,CN=System,DC=domain,DC=tld container. Use adsiedit.msc, ldp.exe or any other ldap browser to view them. These objects just create a connection between your production share you want to use the shadow copies for and the backup share on your Data Protection Manager server. As the attributes names point in the right direction the ms-productionSrvShare contains the path to your production share and the ms-backupSrvShare to the share on the DPM Server. So I opened the explorer and navigated to the DPM share belonging to the share I'm dealing with. This looks like this \\dpmserver.domain.tld\productionsserver.domain.tld_sharename. So, as expected, I found the backup files of my share. I opened the properties dialog and clicked on the previous versions tab. Well, I did not expect to see ALL recovery points. This share offers me all recovery points DPM has on disk – not only last 2 weeks or something like that.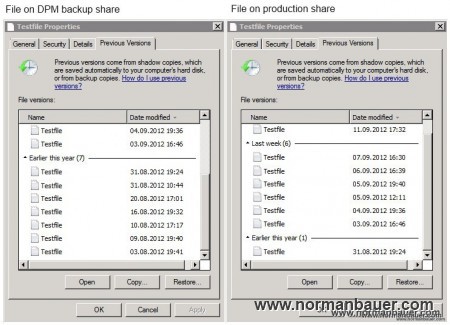 Today I opened a case with Microsoft. Let's see what their support engineers say. I will keep you updated on this topic…